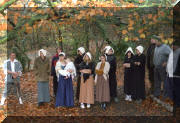 A group of Talent Club International actors filming a costume drama for TV
As you get to see more about New Atlantis you will see that we area honor based society, that has somewhat simple objectives, to improve the quality of everyone's lives.

We set about doing this in a number of ways, and we divide these up into what we would class as real world activities, and virtual world activities.

Real word activities are direct action that we can take like helping to set up clubs and organizations to achieve specific aims, such as helping you to obtain your own home or achieve a dream that you have. Also in carrying out our own independent investigations, rather than accepting what is being said about any situation.